Being a film maker is a dream for many, and while it takes years to get to the level of Steve Spielberg and James Cameron, filmmaking is a fun thing to do as a hobby or career.
This introduction to filmmaking is a treasure trove of years of experience from highly skilled and successful filmmakers dominating their space in recent years.
Here we'll cover some of the invaluable advices you'd ever get from professional filmmakers along with the right tools and resources you need to get started with filmmaking today.
We will also cover common mistakes new filmmakers (and some experienced filmmakers) make and how to avoid them. You will also get to learn how to monetize your filmmaking skills to turn it from a hobby to a full-blown business!
Successful Filmmakers Share their Advice to Beginners
"What would be one of the most important sets of advice you'd like to give to a beginner filmmaker?"
Just recently, the Animotica team set out on a quest for valuable tips from the pros.
We interviewed some of the top-performing and fast-rising filmmakers in the industry. In response, they gave us some of the best sets of advice that anyone could find as a beginner in the filmmaking world.
In this section, we're going to share them with you!
So, pay close attention, grab a notepad, and follow along!
Tony Reale—NextWaveDV (10,059,256 views)
Tony Reale is a cinematographer and Director of Media Productions at Creative Edge Productions. He also runs a YouTube channel, NextWaveDV, where he brings tips and techniques from professionals about various aspects of filmmaking, such as, directing, shooting, editing, lighting, animation, and more.
Here's his advice!
"Learn every roll in filmmaking (producing, writing, directing, lighting, audio, editing, etc.) so that you understand the process, but then decide what you enjoy most and focus your energy on becoming good at that thing. It's important to understand how each department works and interacts, but it's also important for you to specialize in what you do best. A jack of all trades isn't very useful on a film set. Someone who is really good at their specific role is."
Justin Odisho—Justin Odisho TV (84,355,548 views)
Justin Odisho is a video editor and creator. He runs a YouTube channel, Justin Odisho TV, where he has shared hundreds of tutorials around photo and video editing to over 800 thousand subscribers.
Here's what he has to say!
"One of the most important advice I would give is to use the tools you have to create projects from start to finish and that's how you will get better and know what kind of tools you need and want."
Andrew Jones—Deity Microphones (1,011,768 views)
Andrew Jones is a brand developer for Deity Microphones, a company that provides professional hardware for content creators.
Deity Microphones also has a YouTube channel where their subscribers learn about hardware and software tools along with techniques for better sound production.
This is his advice for you.
"When buying your first pieces of gear, avoid debt and borrowing money to buy the gear. When you are starting out, being financially free allows you to be more open the opportunities for you to be creative. When you're on the set o your very first short film you shouldn't be worried about bills and budgets, you should live in and savor the moment as you start the rest of your life."
John Hess—Filmmaker IQ (14,789,201 views)
John Hess is the director of Filmmaker IQ, a platform that teaches filmmaking using unconventional approaches on both their website and YouTube channel.
Here's his advice!
"Really the most important thing is to just start – realize that it's not going to be perfect the first time around but you're learning and gaining experience."
Joshua Noel—SonduckFilm (43,211,337 views)
Joshua Noel is the owner of SonduckFilm, a channel that releases weekly tutorials on filmmaking, motion graphic, graphic design and photography.
This is what he recommends for beginners!
"Film short projects and produce consistently. When you are first starting out, the more projects you complete, the faster you will learn and develop your skill. It's much better to produce ten one-minute projects, rather than one ten-minute project. This way you can breakdown your mistakes and find ways to improve 10 different times."
Alex Ferrari—Indie Film Hustle (3,270,657 views)
Alex Ferrari is an award-winning writer/director and the host of Indie Film Hustler, a channel dedicated to helping beginners and experienced filmmakers 'hack' the film business.
Here's his advice!
"Understand that filmmaking is a long game. Patience is the key. Build your career one project at a time."
Robert Carr—The Film Look (2,037,255 views)
Robert Carr is a co-host at The Film Look, a channel that provide DIY and micro-budget advice, tips, tricks, and tutorials for the young filmmaker.
This is his advice to newbies.
"Make lots of films so you can find out which area of filmmaking you like the most."
Shane Hurlbut, ASC—Hurlbut Academy (4,183,195 views)
Shane Hurlbut, ASC, is a world-renowned cinematographer and member of the American Society of Cinematographers (ASC) who has worked on several blockbusters such as Need for Speed, The Babysitter, The Adventurers, Act of Valor, etc.
This is Shane's advice for you!
"You have to love this business, so much so that you cannot live without it. It takes tons of resiliency, hard work, long hours and lots of patience to be successful. If you do not feel that you are able to invest the effort, this career is not for you.It is extremely difficult to master the art of cinematography and everyone has their own journey. I started at a rental house floor with lighting, grip and camera. You need to be confident, not arrogant, humble but not a push over and do not get discouraged.Push yourself out of your comfort zone, stand up for your team members wherever you start, believe in your abilities and understand that we have the greatest job in the world"
Parker Walbeck—The Full Time Filmmaker (54,164,665 views)
Parker Walbeck runs an online film school called the Full Time Filmmaker where he mentors filmmakers around the world. He has spent the last several years filming for with big brands such as Hyundai, LG, Squarespace, etc.
These are Parker's words.
"The most important advice I'd give to ANY beginner Filmmaker is to INVEST in your business. If you want others to invest in you as a filmmaker, you need to invest in yourself. Investing doesn't always mean spending money either— you can invest in education, in mentorship, invest in TIME by practicing and practicing until you're able to create high quality videos for clients. Then invest in your business by upgrading your gear, charging more, and growing your brand."
---
Favourite Software Tools of Successful Filmmakers
"What's your favorite software tool for filmmaking?"
Gone are the days of the Steenbeck and vintage flatbed editors. Postproduction has gotten more complex and exciting in the last few decades with the advent of software tools.
The basic software tools you'd need as a filmmaker would serve two essential purposes:
video editing
sound editing
During our interviews with these successful filmmakers, we asked them what their favorite software tools were and the answers they gave were pretty interesting.
Let's take a look!
Tony Reale—NextWaveDV
"As a director of photography, my most used piece of software outside of Adobe Creative Suite would probably be my Sun Surveyor app on my phone.
Being able to know where the sun is going to be for outdoor and indoor shoots with windows is the first step to lighting a scene."
Justin Odishso—Justin Odisho TV
"I like the Adobe Creative Cloud Suite for photo and video editing."
Andrew Jones—Deity Microphones
"Apple Notes, I am a very free thinker and when creativity or an idea strikes, typically it's a rush of ideas.
I like writing them down so I don't forget anything and it allows me to examine the idea a few days later to see if it's really as good as I originally thought before I move forward.
Taking these kind of notes slows me down and gives me patience to flush out an idea fully."
John Hess—Filmmaker IQ
"Adobe Suite is my go-to, from Premiere for editing to After Effects for graphics. I spend all my time in the Adobe software environment."
Joshua Noel—SonduckFilm
"Right now it's DaVinci Resolve. My main skillset is Cinematography. And you can totally mess up your shots in post if you don't understand post color.
To be clear, I don't edit in Resolve, but no other mainstream software comes close to color grading like Resolve. The tools, the UI, and the speed to color grade is unmatched."
Alex Ferrari—Indie Film Hustle
"DaVinci Resolve."
Robert Carr—The Film Look
"[My] favorite software tool for filming is Adobe Creative Cloud, and mainly Premiere Pro for editing."
Shane Hurlbut, ASC—Hurlbut Academy
"Artemis Pro by far, it has shaped the new way of envisioning the communication between the director, AD, DP, camera ops, lighting and grip crews."
Parker Walbeck—The Full Time Filmmaker
"Our team loves Adobe Premiere Pro. We're proficient in other software, but Premiere Pro gives us all the tools we need for editing, coloring, sound designing, and delivering our videos."
Here's a quick summary of the software tools these filmmakers love the most along with other software tools you might find useful.
Adobe Creative Cloud
DaVinci Resolve
Sun Surveyor
Apple Notes
Artemis Pro
Animotica
Filmora
iMovie
Shotcut
You can check out this blog to get a list of software tools that can be beneficial to you.
---
Favorite Hardware Tools of Successful Filmmakers
Filmmakers NEED their hardware gear. From perfectly capturing the lighting to being in tune with the sound, filmmakers heavily invest in hardware equipment.
The filmmakers we interviewed were also happy to let us in on what their favorite hardware tools are.
So, let's take a look!
Tony Reale—NextWaveDV
"My favorite piece of hardware is our camera van. I love having all my lights and cameras and lenses, but having everything organized and easy to grab when traveling to productions is crucial. Optimizing your productivity can be the difference between getting a shot or running out of time on a shoot day."
Justin Odishso—Justin Odisho TV
"I think hardware could be different for everyone but for me, having a nice computer with good specs helps me edit. A microphone helps me record my voice well, and then just a capable camera and a few small things like tripod or stands. Even my phone is a great tool."
Andrew Jones—Deity Microphones
"This is going to be a stupid answer but it's true, my favorite tool for filmmaking is a power strip. Fancy lights, cameras, and audio gear are all lovely items… but the hero on any film set is the person who brought extra power strips. Give that a thought for a second and you know I'm right."
John Hess—Filmmaker IQ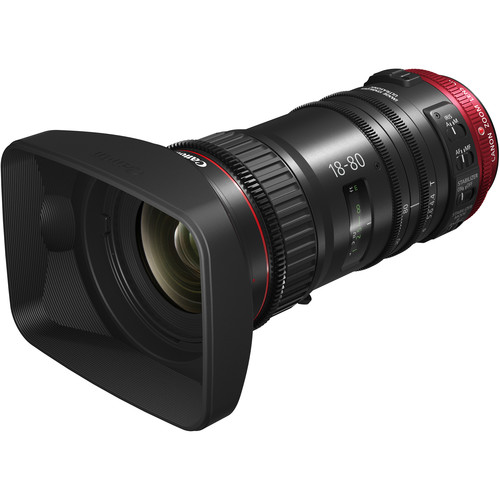 "Really,it's this one cinema lens that I purchased a year ago – Canon CN-E 18-80mm T4.4 COMPACT-SERVO Cinema Zoom Lens. It's brought my images to another level."
Joshua Noel—SonduckFilm
"I don't have a specific one piece of gear that's my favorite. However, I have to say my lenses are my go-to. Every focal length and set of lenses is going to influence the feel and perspective of your project. Having the power to distort your shot with a wide lens or compress your shot with a long focal length, is incredible. You can mix different brand lights and cameras, and you'll produce pretty comparable work. But if you have chosen the wrong set of lenses for the project, you're married to that look. "
Alex Ferrari—Indie Film Hustle
"Blackmagic Camera."
Robert Carr—The Film Look
"I have two favorite hardware tools for filmmaking. The first is a 35mm Takumar F3.5 vintage lens which just looks amazing. The second would be my editing PC, cameras are important, but having a powerful computer will not hold your creativity back when it comes to editing your film."
Shane Hurlbut, ASC—Hurlbut Academy
"RED Gemini camera, I feel it is the most versatile camera of the decade, it emulates film emulsion so beautifully."
Parker Walbeck—The Full Time Filmmaker
"My favorite tool for filmmaking is my trusty Glidecam. I've been using the Glidecam for almost a decade, and even though technology continues to improve, the Glidecam still produces amazing results and is very reliable.
A stabilizer in general is probably the best tool for a filmmaker to separate his films from the rest. Stable footage is what clients are willing to pay for. "
Here's a roundup of hardware tools they like using along with some other tools that will be helpful to you as a beginner.
Camera Van
Computer
Microphone
Tripods
Power Strips
Blackmagic Camera
RED Gemini Camera
Stabilizer
35mm Takumar F3.5 vintage lens
Canon CN-E 18-80mm T4.4 COMPACT-SERVO Cinema Zoom Lens
Glidecam
Light Equipment
Feel free to check this guide out for an extensive list.
---
Educational Resources—Movies, Websites, Courses, Books, etc.—Recommended by Successful Filmmakers
"What's your favorite educational resource (movies/websites/courses/books) that you can recommend to beginner filmmakers?"
With filmmaking, the learning curve is a little steep. Even the pros learn new things every single day. As a beginner, the best way to fast-track your learning process is to leverage the available resources around you.
You can study the cinematic ins and outs of your favorite movies, visit websites, take courses, etc.
Our respondents revealed some of the best educational resources that have helped them grow into the successful filmmakers that they are.
Let's have them below.
Tony Reale—NextWaveDV
"I learned a lot just on web forums. Find a good community that you can share ideas, ask questions, and learn from. I pieced together my own education from online forums and YouTube and that gave me the backbone to go out and start experimenting."
Justin Odishso—Justin Odisho TV
"As far as filmmaking and editing goes, online resources like YouTube are really wonderful. For more motivational or other purposes, podcasts, books etc can be great. "
Andrew Jones—Deity Microphones
"2 Disc Special Edition DVD box sets are one of the best resources you can get when you're beginning. Sure while in film school you'll read your text books on the subject, carry around your paperback copy of "Rebel Without A Crew," and quote Alfred Hitchcock to your friends all 4 years, nothing beats popping in a special edition disc #2 and watching all the featurettes and bonus materials. Text books are great, but they are sterile and boring. Watching all 10 disc from the The Matrix Ultimate Box set or "Peter Jackson's King Kong Production Diaries" 2 disc set will keep you passionate and excited to be a filmmaker."
John Hess—Filmmaker IQ
"Filmmaker IQ of course! I think what we do differently is build up a foundation of understanding because the real filmmaking teacher is experience. If we can provide you the basic understanding – you'll learn a lot faster once you get out there and start making films. "
Joshua Noel—SonduckFilm
"Almost everything you can learn is free on YouTube. There are so many great creators out there, that you can just search for the keywords you are looking to learn. 
YouTube channels I've been subscribed to for years are: 
Aputure, ArriChannel, Color Grading Central, CookeOpticsTV, D4Darious, Film Riot, Hurlbut Academy, Kinetek, LightsFilmSchool, Tom Antos."
Alex Ferrari—Indie Film Hustle
"Obviously, indiefilmhustle.com, indiefilmhustle.tv, bulletproofscreenwriting.tv, and ifhacademy.com =)"
Robert Carr—The Film Look
"Movies are great resources to learn from and can help inspire you, but YouTube has to be the number one resource for filmmaking. It's the best place to learn about the tech side of filmmaking, but also the theory side of how films are made. "
Shane Hurlbut, ASC—Hurlbut Academy
"Reference books are my creative inspiration, to dream and take my visual storytelling to new levels. The American Cinematographer magazine [is an example].
Movies and books you all need to checkout: 
Satellites—Photographs from the Fringes of the Former Soviet Union
Photographs of a Lifetime—Dorothea Lange
Cocaine True, Cocaine Blue—Eugene Richards
The Ballad of Sexual Dependency—Nan Goldin
Bound For Glory—America In Color 1939-1943
Twilight—Photographs by Gregory Crewdson
Lost in Translation—Hiromix
The Sound I Saw—Roy Decarava
The Americans
A Storybook Life—Philip-Lorca diCorcia
Tulsa—Larry Clark
Personal Exposures—Elliott Erwitt
Highway: America's Endless Dream—Jeff Brouws
The Table of Inspiration – Educational Resources for Filmmakers
What Inspires Successful Filmmakers?
"What inspires you?"
This is most likely one of the most frequently asked questions you'd get when you finally hit some success as a filmmaker. Inspiration is at the core of everything a filmmaker does. Without inspiration, creativity fails to thrive.
For everyone, Inspiration could come in different shapes and sizes.
So, we asked our respondents about what their inspirations are, and these are their answers!
Tony Reale—NextWaveDV
"I get inspired by beautiful cinematography. I enjoy watching movies and being swept away by the visual world the director and DP work together to create. However, I personally enjoy the challenge of commercial and corporate work.
Trying to tell a compelling story in 30 or 60 seconds or taking a bland corporate message and turning it into something compelling excites me. Limitation breeds creativity and those limitations are where I find I do my best work. "
Justin Odishso—Justin Odisho TV
"I'm inspired by other people, whether they are musicians or artists or athletes, authors, who work hard or create great art or have a unique story that they push through."
Andrew Jones—Deity Microphones
"Problems inspire me. There's a website called Shitty Rigs, it's a tribute to the human spirit of ingenuity."
John Hess—Filmmaker IQ
"Music, ideas and stories!"
Joshua Noel—SonduckFilm
"One word: Freedom. The ability to do what you want, when you want. You obtain more freedom by bringing value to others and by constant growth.
Example: You can't produce a correctly-budgeted feature film, if you aren't bringing value to your investors and to the people who will watch your film. Even if you fund it yourself, you have brought value to others in the past in order to obtain your hard-earned money."
Alex Ferrari—Indie Film Hustle
"Filmmakers who figure out a way to make their dream come true thinking outside the box. [Ultimately,] Never give up on your dream. You have no idea the impact your art will have on someone. It's your responsibility to find a way to make your dream come true."
Robert Carr—The Film Look
"Watching films inspires me, everything from the visual aspect to the storytelling. Seeing what is possible and how other people have done it. Filmmaking is not easy. It takes a lot of hard work, time, disappointment, and your films will suck at first. This is OK just as long as you keep making them. "
Shane Hurlbut, ASC—Hurlbut Academy
"Roger Deakins, Emmanuel Lubenski & Robert Richardson as DP's. What inspires me is the art and science of cinematography. 
Push yourself out of your comfort zone and blaze new trails.  Never do I go into a project with the mindset of, "I'm going to do what I have done in the past, EVER." 
You never phone it in, you never try to shortcut, you do the work that is more than required. "
"I am constantly inspired by the next generation of filmmakers and love that I can help guide them and serve as a mentor. It is something that brings me joy and is a great way to give the greatest gift of all, knowledge."
Parker Walbeck—The Full Time Filmmaker
"What's always inspired me is helping others live their dreams. The reason I created Full Time Filmmaker in the first place was to help other filmmakers shorten their learning curve, and be freelance videographers full time.
It's so hard to get started, but the job is so rewarding. And I find joy in helping others grow, improve, and live their dream."
Final Words
We hope that you got a lot of value from this guide. The answers you just read are products of several years of active filmmaking experience from professionals who've done it all and seen it all.
It would be super helpful if you took advantage of these pieces of advice along with the educational resources.
Feel free to check out our blog on tools and resources you might need for vlogging and filmmaking!
Also check out Animotica, our rich, beginner-friendly video editor. 
Cheers!